What is Somatoemotional Release?
Somatoemotional Release (SER) is a process that can occur within a Craniosacral session to help rid the mind and body of the residual effects of trauma which may manifest emotionally, behaviorally physically or even psychologically.
Joint research conducted by Dr John Upledger (founder of CST) and biophysicist Dr Zvi Kami in the late 70's led to the discovery that the body often retains the imprint of the physical forces from accidents, injuries and emotional shock. Those dysfunctional areas are frequently isolated in what Dr Upledger calls 'energy cysts', essentially where we hold onto the trauma or 'our stuff'. 
Although often a healthy body can adapt to energy cysts, the body has to then accommodate for housing this energy which results in the body having to work differently or it needs more energy to work or function. Over time, as short as moments as long as years, the adaptations start to become less effective, they tire, fatigue. 
Pain, symptoms, dysfunctions even behaviours begin to appear and become increasingly difficult to suppress or ignore. This is not only true for emotional or psychological trauma we have experienced in our lives but also when physical injuries nag or don't completely heal it may be because there is emotion from the experience trapped within the tissue. 
This trauma restricts the body's natural ability to recover or heal. This gives explanation why some injuries just don't seem to get better no matter how much treatment you receive.
There is an extremely diverse range of problems that can be support and treated. Some examples of these but definitely not limited to are: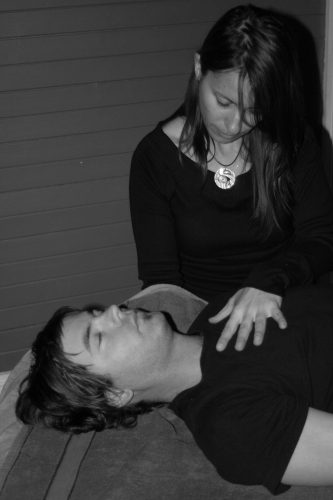 TMJ Syndrome
Issues resulting from birth
All forms of muscular skeletal pain
Chronic Fatigue
Migraines
Fibromyalagia
Depression & Anxiety
Irritable bowel syndrome
Menstruation issues
Respiratory and digestive issues
High blood pressure
Acute and chronic injuries
How Does it Happen Within a Craniosacral Session?
Intuitive methods and monitoring of the craniosacral rhythm are use to detect and facilitate the release of energy cysts. The therapist's ability to support the body is governed by the individual on the table. This means what happens in the session is determined by what the 'body' is needing rather than the therapist dictating what they 'think' is needed, NOTHING CAN BE FORCED TO HAPPEN. 

There are many ways in which an SER can occur. As this work connects to higher levels of consciousness the method in which a person releases the trauma is determined by the individuals own internal intelligence, supporting the individual with dialogue through a conscious process is only one, for there are some traumas which are simply still too traumatic for the person to re-experience or remember, this therapy creates and opportunity to release these traumas without having to. 
What Makes This Different?
This work gives the individual the opportunity to release in many non confronting ways without needing to know the story. It can be easy! In my opinion this is one of the gifts of this work. So much of this work gives the individual the opportunity to 'let go' of their trauma or 'stuff' in a way that is safe for them, in most cases this is done unconsciously. 

In the times more awareness is needed I ensure support in the process with the maximum possible amount of privacy regarding the event or situation as well as it's resolution or healing. 
What to Expect From a Consultation
Because of how I work I often need very little information or detail when supporting the individual, giving them more freedom to achieve the release and experience change. Avenues or ways that the body releases can occur not only in the session but also after. 
During the initial consultation I discuss in length different experiences that may be possible as well as ways to improve your awareness of them and how to support yourself during it. This is not counseling, but a way of listening to the body and allowing it to identify areas or issues which it deems significant and its consequence may be physical, emotional or behavioral.